In 2020, the Reisacher Group opened its large BMW brand world dealership for BMW, BMW i, BMW M, MINI, ALPINA and BMW Motorcycles in Augsburg. Covering an area of 36,000 square meters, the dealership sets standards in the areas of customer orientation, digitalization and sustainability. As service provider, echion AG was responsible for the equipment set up with premium audio and LED.
The optical highlight of the digital signage installation is the 55 m² LED wall on the outer facade facing the main street. It was complemented by LED bands connected to a digital wayfinding system customized for Reisacher, which guides customers to the right place on the premises as soon as they enter the premises. Inside, an 18.1 m² L-shaped LED display and an 8 m² double-sided LED become an attention-grabbing eye-catcher.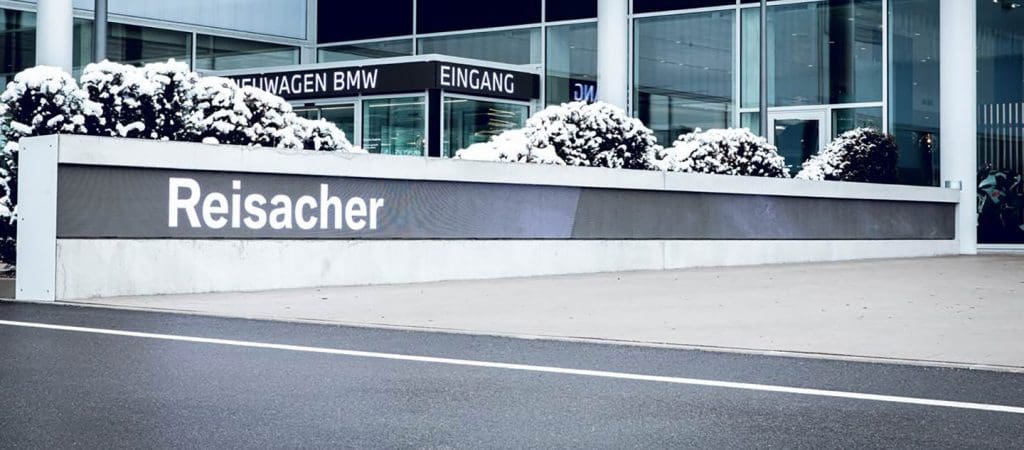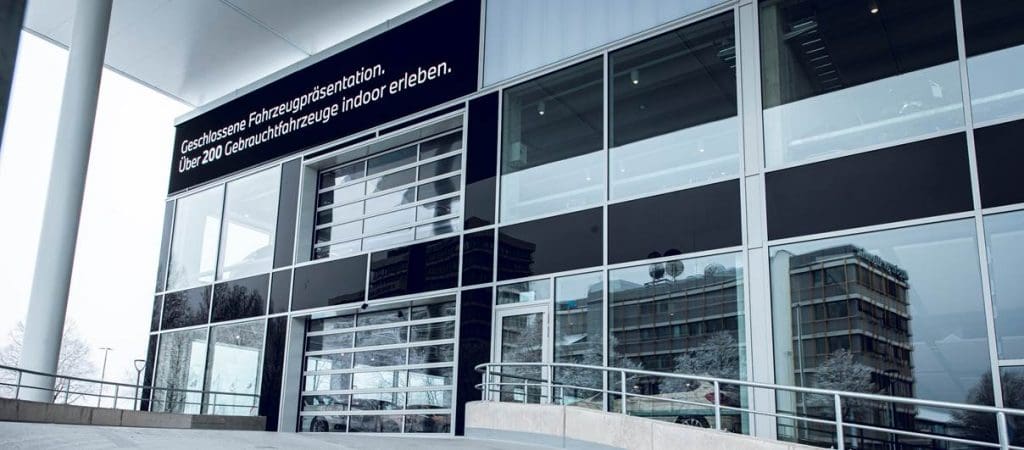 Premium Sound for the show rooms
The echion music editorial team developed an exclusive in-store sound program for the BMW showroom as well as for the MINI and BMW Motorcycles areas. The special challenge for the hardware equipment was to separate the seamlessly merging sales areas acoustically and precisely from each other and also to be able to guarantee interference-free consultation from every point of the salesroom. In order not to compromise the modern, minimalist visual design of the car dealership with visible cable runs, wireless loudspeakers were selected that could be seamlessly integrated into the existing lighting concept.
LED exterior façade – 55.9 sqm².
Brightness: 8.000 cd/qm² -Pixel distance 10 mm
LED wall – 7.4 sqm
brightness: 6.000 cd/sqm² -pixel distance 3,9 mm
LED Service Garage – 17.9 sqm²
LED vestibule – BMW 4.7 sqm²
LED wind trap – mini 4.7 sqm²
Brightness: 6,000 cd/sqm² – Pixel pitch 3.9 mm
LED display – mini L-shape 18.1 sqm²
Brightness: 1.000 cd/qm² – Pixel pitch 2,5 mm
LED display double-sided – motorcycle 8.2 sqm²
brightness: 1.000 cd/qm² – pixel pitch 2,0 mm
54 wireless speakers Audio Pro Business SP-1 & SP-3
7 wireless subwoofers SUB-1 & Sub-3
5 TX-1 wireless transmitters,
5 VOL-1 volume controls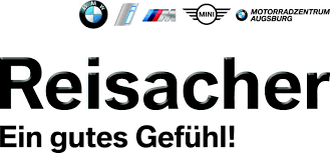 This is what our customers think:
Our projects with echion were supported with quick communication channels and competent handling. During our joint cooperation, we especially appreciated the very personal, yet professional support and the competent project management.