IKEA's wish was to fit out all their home furnishing stores in Germany with digital signage poster boards providing information on the subject of food/restaurant. By digitising the menu boards, the aim was to enable both the IKEA head office and the individual stores to quickly and flexibly create and exchange standardised, visually appealing offers. The idea was for customers to be able see up-to-the-minute offers at a glance and be made aware of mealtime-specific menus (breakfast, lunch, afternoon tea/coffee, dinner) by special highlights.
As a full-service provider, echion AG offers an overall concept consisting of hardware, software, content production and management, installation and support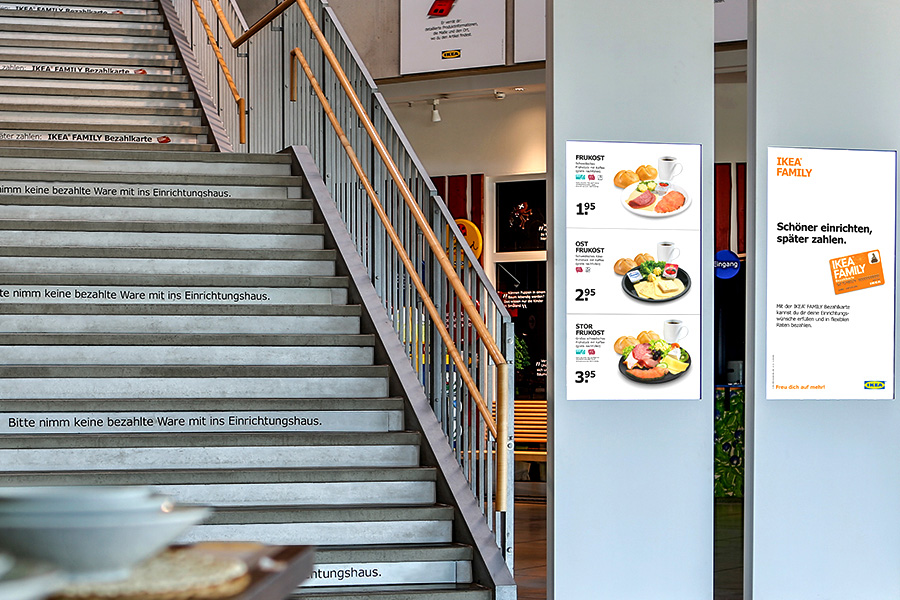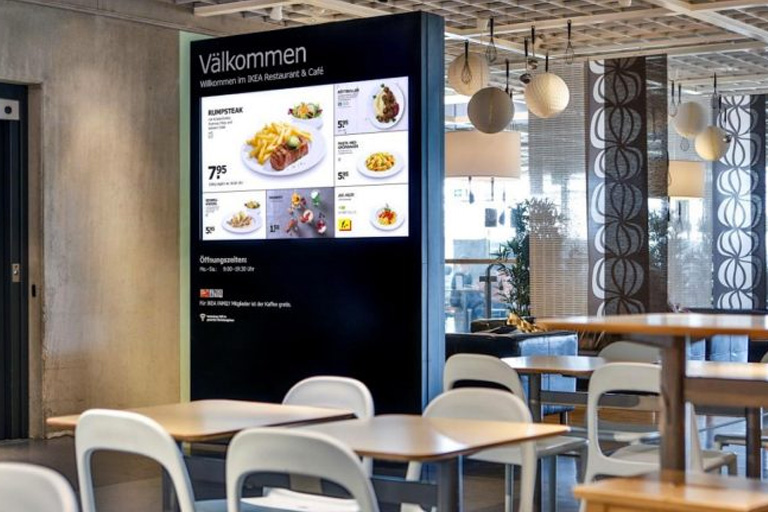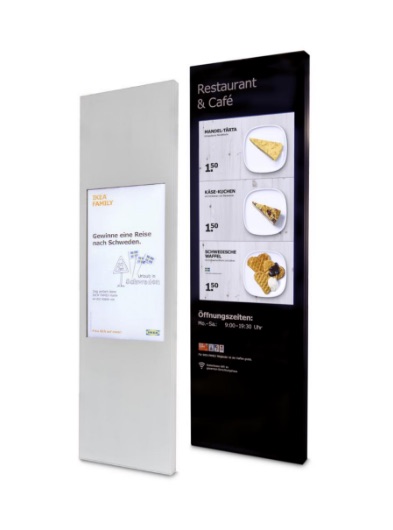 The hardware used comprises digital signage poster boards of various sizes in portrait or landscape orientation plus one or two digital signage screens. The placement points for the displays are the entrance foyer, the furniture showroom and the restaurant lobby area.
The video playback hardware is a deployment-optimised Windows-based system designed for professional digital signage applications. The software and client content allocation platform is produced by echion.
Contentproduktion und Contentmanagement
Based on IKEA's requirements and specifications echion produces various templates for presenting both food and retail-related content. The templates use a visually uniform and contemporary design as expected by consumers in modern retail spaces.
For content control, an individual content allocation platform (content management system) was designed and developed specifically for IKEA. That gives the IKEA head office the ability to centrally control the content for the individual stores. It also gives the stores flexibility – by virtue of the option of removing or swapping offers and creating their own individual daily offers based on a template.
The support provided by echion comprises the following services:
Daily control and monitoring of the functional capacity of the system and the content allocation platform for the home furnishing stores
Central control and maintenance of hardware and software
Remote maintenance of the systems
IP-based data communication via DSL or existing network
Branch-specific content allocation for all sites, individual content planning
Installation of software updates
Technical support / 24/7 phone hotline
echion AG has been working with IKEA in Germany in the area of digital in-store communication since 2009 and is familiar with all the necessary processes, the centralised structure and decentralised control by the individual home furnishing stores.
As part of the "Instore Audio" project, echion AG controls daily playlists for each individual store in Germany, designs and produces content (promotion spots) on request and in consultation with the head office in Hofheim, and enters them into the individual program nationwide.
In addition, echion AG is in constant communication with all home furnishing stores (LMS and building services) to co-ordinate local content and/or local requirements and adjustments.